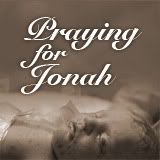 Here is our first chance to show some support in the form of prayers and cards, should you choose to accept the challenge. Please click on the button and read about Little Jonah. This is a family who has seen heartbreak and is now going through a very tough time with their new little one. If you would like to send a card of support they have their mailing address on their sidebar. If you would like to donate cards for the effort that would be great as well. If you would like to just say a prayer for baby Jonah, that is wonderful too.
Show Jonah that we care.
Grab the button and lets get the word out about Jonah.
Thanks everyone!